Join Our Telegram channel to stay up to date on breaking news coverage
1inch (1INCH) price is trading is scaling a recovery rally, pulling north after a 30% slump that began mid-August. The token is up almost 20% as investors attempt to recoup some of the ground lost. Meanwhile, the network continues maneuvering the effects of a rather bearish fundamental on September 22.
1Inch is a decentralized exchange (DEX) aggregator, sourcing liquidity from different DEXes, offering users better token swap rates than any single DEX. This comes as they "optimize slippage, swap fees, and token prices." Ultimately, this delivers better rates for users.
1INCH is the best of the best decentralized exchange (DEX) aggregator. These crypto assets offer users better cryptocurrency exchange rates than a single crypto exchange could. Additionally, this asset saves users time.

— Rabic🥷MetaBlox | DSpace (@rabiabic) September 22, 2023
Bearish Fundamental For 1Inch Token
The 1Inch network is coming out from a bearish event, token unlocks, on September 22. The event was linear, not cliff, meaning the tokens will be released daily at a stable and fixed rate over some time while incorporating liquidity incentives.
On September 22, the 1Inch ecosystem released 53,570 1INCH tokens, constituting 0.01% of its circulating supply. The tokens were allocated to the team, investors, and VCs. The tokens were worth approximately $14,200 at the time. Fast-forward four days, the project is again planning to unleash an additional 15,000 tokens worth around $3,980.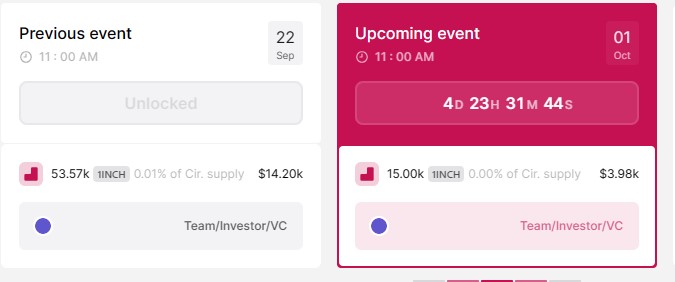 Owing to the negligible volume of the tokens relative to the 1INCH circulating supply, the impact on the market is expected to be minimal. Nevertheless, unlike the team and the VCs, it is a dent to the network's upside potential because investors may want to cash in for a quick profit.
It is worth mentioning that token unlocks are considered bearish catalysts. This means the September 22 event accentuated the 5% slump recorded the next day.
Traders should. Therefore, brace for volatility, with insights by cryptocurrency intelligence tracker The Tie suggesting that token unlocks events tend to inspire increased trading volumes. Investors are likely to sell to avoid being caught as part of exit liquidity.
1INCH Price Prognosis with Volatility Expectations
1inch shows the effects of a volatile market, trading within a wide range ahead of the unlocks event. Meanwhile, the fair value gap (FVG) represents an inefficiency that needs to be filled, thereby increasing the odds of a continued rise. A decisive move above the consequential encroachment of the FVG at $0.2961 would confirm the uptrend.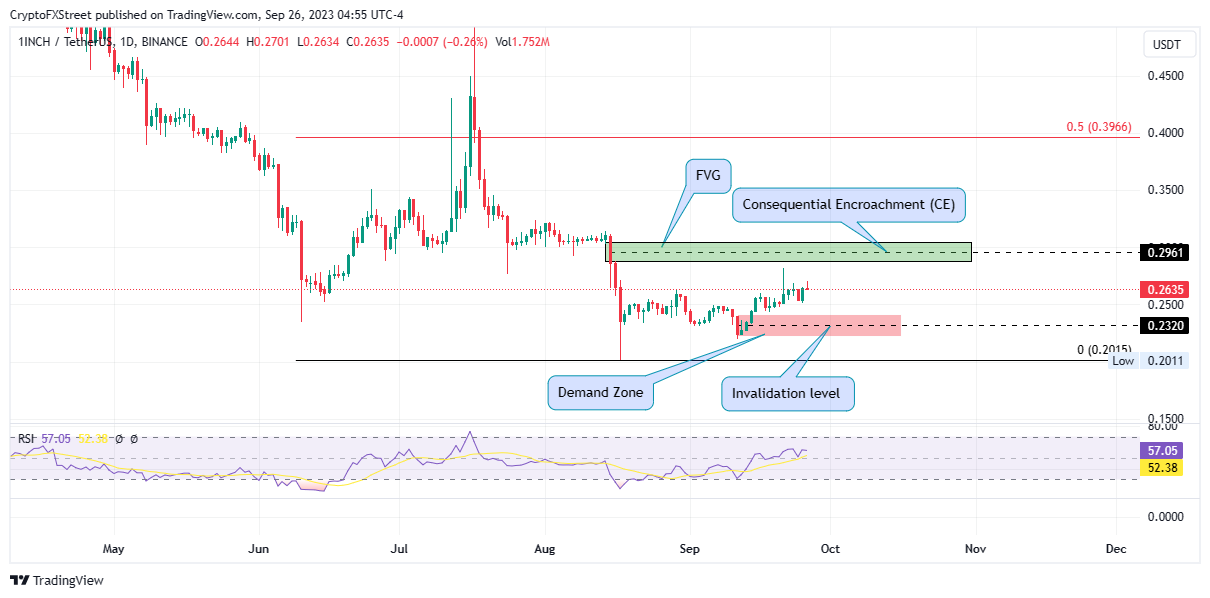 However, the upcoming unlock event continues to limit the upside potential for the DEX aggregator token. This increases the odds of a correction to the demand zone below the $0.2500 psychological level.
A break and close below its midline, the mean threshold, at $0.2320 would prevent any chances to move north. With the demand zone flipped to a bearish breaker, 1Inch price could fall to the support floor at the $0.2011 low. Such a move would indicate a 25% drop from current levels.
The Relative Strength Index (RSI) corroborates the odds for a slump, inching south to show falling momentum.
Meanwhile, there is a new project in the market, swiftly cruising through its presale with very optimistic collections. Here is a project review with analysts presenting it as the ideal portfolio diversification alternative.
1INCH Alternative
BTCBSC, the native crypto for the Bitcoin BSC ecosystem, is first in line in the list of 1INCH alternatives. The project is underway with the presale, recording massive success even after meeting its soft cap. The latest website update indicates that almost $5.230 million is already in the bag as the Bitcoin BSC project sprints to the $6,063,750 target.
Another Achievement! 📣#BitcoinBSC has attained an incredible $5 million raised! 💸🔥 pic.twitter.com/8qD2r0EV1h

— Bitcoinbsc (@Bitcoinbsctoken) September 25, 2023
Investors looking to venture into the Bitcoin BSC project can buy BTCBSC using Tether (USDT), Binance Coin (BNB) or Ethereum (ETH).
Act now and don't miss your chance! 🌟

🌐 Secure $BTCBSC using $USDT on either #Ethereum or BSC chains.

Connect your wallet, opt for USDT, and make sure you have sufficient $ETH or $BNB for gas fees.

Become a part of the #BitcoinBSC #Presale now!🔥https://t.co/oM0YP8IlbV pic.twitter.com/xt0Fd1WSWO

— Bitcoinbsc (@Bitcoinbsctoken) September 18, 2023
Interestingly, once you have the tokens in your portfolio, you do not have to wait until the project launch to start earning. You can stake the tokens for an Annual Percentage Yield (APY) as high as 99%. Thus far, over 2.656 BTCBSC tokens have already been staked.
Discover the fusion of Bitcoin's legacy and Binance Smart Chain in #BitcoinBSC! 🚀

Our sustainable #Staking method fosters enduring dedication and community involvement.

Join the #Presale today and secure your $BTCBSC #Tokens!

🔗https://t.co/oM0YP8IlbV #CryptoCommunity #Web3 pic.twitter.com/kyZSmpOPRD

— Bitcoinbsc (@Bitcoinbsctoken) September 14, 2023
The project runs on the BNB Smart Chain, set atop Ethereum's secure code. This offers many benefits, including smart contract capabilities, speed, cost-effectiveness, and security, making it a game changer in the industry. It uses a Proof-of-Stake (PoS) mechanism, with validators using their token holdings to secure the network.
Exploring the benefit of #BitcoinBSC on the BNB Smart Chain! 🌐

Built on #Ethereum's secure code, it offers robust security and smart contract capabilities, making it a game-changer for the #CryptoCommunity. 🔒 #BNBSmartChain pic.twitter.com/eulGIV9x89

— Bitcoinbsc (@Bitcoinbsctoken) September 25, 2023
The project parades as the eco-conscious BEP-20 adaptation of the flagship cryptocurrency, Bitcoin (BTC). It is designed to mimic the early days of BTC, going back to April 2011 when the king of crypto was valued at $0.99. Now you have a chance for a do-over; do not let it pass you by.
Relive the early days of Bitcoin's inception with #BitcoinBSC!

Take a trip back to April 2011, when #Bitcoin was merely 99¢ each. 🚀

Come along with us on this nostalgic journey and encounter market accessibility like never before.💰 pic.twitter.com/afrE9yfDhF

— Bitcoinbsc (@Bitcoinbsctoken) September 22, 2023
Grow Your Income With BTCBSC
As one of the income earners of the Bitcoin BSC ecosystem, you can enlist in the referral program by getting a unique referral link and sharing it. Anyone who uses your link to join the BTCBSC community and make a purchase will be a 5% addition to your wallet, depending on how much they transact.
Kickstart your $BTCBSC Referral Program journey today! 🌐

Bring your friends on board and earn 5% from every purchase made via your exclusive link.

Link your wallet, grab your referral link, spread the word and enjoy the benefits. 💰

🔗https://t.co/oM0YP8IlbV pic.twitter.com/PKGn7OE1uP

— Bitcoinbsc (@Bitcoinbsctoken) September 21, 2023
Immerse yourself in the rewards revolution with Bitcoin BSC as the project delivers a unique mix of Bitcoin and BNB Smart Chain. Doing so ensures that community members enjoy eco-friendly staking for potential rewards.
Visit Bitcoin BSC here
Also Read:
New OKX Listing – Wall Street Memes
Established Community of Stocks & Crypto Traders
Featured on Cointelegraph, CoinMarketCap, Yahoo Finance
Rated Best Crypto to Buy Now In Meme Coin Sector
Team Behind OpenSea NFT Collection – Wall St Bulls
Tweets Replied to by Elon Musk
Join Our Telegram channel to stay up to date on breaking news coverage