The play-to-earn gaming space is one of the most discussed ecosystems in today's crypto industry. According to Dapp Radar's Q1 report, blockchain games accounted for over 50% of the total DApp activity. There has also been a significant inflow of funds, with VCs investing close to $2.5 billion this year.
Looking at these stats, one wonders; what's in store for the average gamer? Unlike the traditional gaming industry, the play-to-earn ecosystem has introduced a gaming model where players are incentivized for participation. This is done through in-game rewards such as Axie Infinity's Smooth Love Portion (SLP) tokens, which can be traded for fiat or other crypto assets.
How profitable are play-to-earn games? Well, the answer depends on several factors; mostly the underlying value of a particular GameFi project. For instance, the average weekly income for Axie Infinity players is roughly 1125 SLP tokens per week, translating to $389 at the height of the bull market. However, the value is currently below $100 as per the prevailing market prices.
While Axie Infinity is still one of the most played play to earn games, the industry now features more advanced innovations. Most notably, a number of the upcoming p2e games have a lower cost of entry and more lucrative reward schemes. So, which are some of the p2e games where crypto enthusiasts can seamlessly engage in immersive experiences while earning an extra income?
1.   Arker – The Legend of Ohm
Image source: playarker.com
Arker – The Legend of Ohm is a play-to-earn game developed as the flagship product of ArkerLabs. Unlike most of the pioneer p2e games, this platform features several gaming modes, including player-vs-player, player-vs-environment, guild wars and daily missions. Users who take part in any of these competitions are rewarded through Legend of Ohm's native token 'Fragments Of Arker (FoA)'.
While still in its beta stages, this p2e game is already paying out FoA rewards to early adopters. How does one earn these tokens? As it stands, the best way is by playing the Legend of Ohm game, currently featured on Windows, Apple Store and Play Store. Players start accumulating FoA rewards as soon as they have joined the game (control a virtual hero and his pet to regain control of the Ohm kingdom).
2.   UniX Gaming
Image source: unixgaming.org
UniX Gaming is a leading metaverse guild whose fundamental purpose is to enhance the growth of the play-to-earn ecosystem. At the core, this p2e gaming platform features a scholarship program where players can rent NFTs. Additionally, they are introducing a native token dubbed $UniX that will serve as an in-game currency and reward tool based on a player's skills and online activity.
Interested p2e gamers can earn this token by engaging in UniX community events such as tournaments, gaming and loyalty rewards. The platform also presents an opportunity for $UniX holders to generate more revenue through several token vaults. Above all, the Unix guild NFT lending model will enable even small-time players to participate in the burgeoning play-to-earn ecosystem
3.   Ignite Tournaments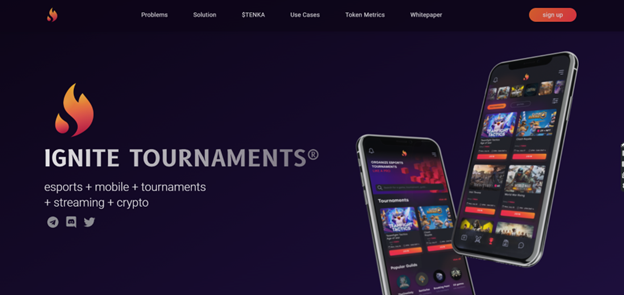 Image source: ignitetournaments.com
Ignite Tournaments is another play-to-earn game that is completely changing the dynamics of NFT gaming. This decentralized esports tournament platform allows participants to create personalized competitions by staking its native token $TENKA as the entry fee. Ideally, this token serves as both the in-game currency and reward mechanism for esports competitors on Ignite Tournaments.
It is also noteworthy that this p2e gaming ecosystem pays out users in crypto or NFTs. This means that prospects can organize NFT-oriented tournaments, featuring Ignite's native digital collectibles and EVM-compatible NFTs and tokens. Given its value proposition in the esports gaming industry, Ignite Tournaments has already raised over $10 million in funding from various crypto VCs, including Animoca, Ascensive Assets and Infinity Venture Crypto.
4.   Battle Drones
Image source: battledrones.io
Built on the Unity gaming engine, Battle Drones is an NFT-oriented play-to-earn game that features a native $BATTLE on the Solana blockchain. This PC 3D isometric shooter game offers players an immersive experience coupled with ecosystem rewards. So, how can one earn $BATTLE rewards? Contrary to most of the complex p2e games, Battle Drones can be accessed through a web URL.
While the project is still in its early stages, they are set to introduce a player-vs-player (PvP) drone shooting and racing game. Participants will battle out to survive in the Drone Dome; in return, they will be rewarded with $BATTLE and in-game items such as drone customization parts. Notably, Battle Drone NFT holders will also have access to additional features such as a custom in-game avatar, in-game perks and staking opportunities.
5.   Plutonians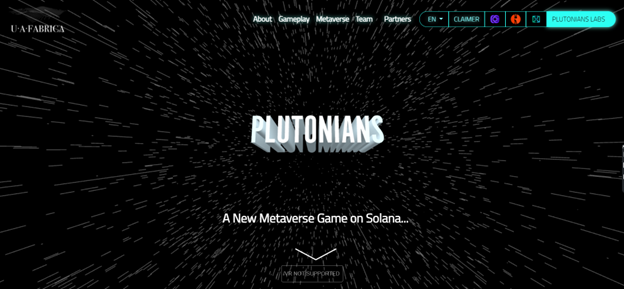 Image source: plutonians.tech
As the name suggests, Plutonians is a play-to-earn game whose style is based on virtually exploring space. This forthcoming MMORPG Metaverse (VR + NFT) space strategy game allows players to undertake space missions through vessels powered by the $PU238 token; the bigger your ship, the more tokens required to fuel it. A player can choose to be a pirate (loot other vessels) or a diplomat (visit neighboring cantinas).
How about ecosystem rewards? Plutonians governance token $SPL will act as the reward mechanism; some of its utilities include governance, NFT swaps and fuel purchases. This p2e gaming platform will also feature other benefits, including a zero barrier to entry, NFT marketplace, in-game yield farms and free expansion packs. So far, Plutonians has already released a VR gaming demo, which enjoys over 500 daily unique users.
Final Thoughts
Play-to-Earn games can be viewed as a lens into the future of the gaming industry. It is not surprising that traditional publishers such as Ubisoft are jumping on the trend. As more people come to appreciate the value of gaming while earning some income, it is likely that the play-to-earn market will grow bigger in the coming years. That said, not all p2e games have a solid use case; prospective gamers ought to do due diligence and understand what they stand to gain before committing their resources.