The cryptocurrency market has suffered a big fall in the past 24 hours. Its total cap is now $1.76 trillion, representing a 7.4% drop in the past day, as well as a 19% fall in the past month. Bitcoin has led this decline, with every major coin (save for stablecoins) also falling. However, this sudden crash potentially creates the conditions for a significant bounce upwards. As such, we've picked the 5 best cryptocurrency to buy for the weekend rally. While the wider macroeconomic climate remains precarious, these coins may see a rebound in the coming days.
5 Best Cryptocurrency to Buy for the Weekend Rally
1. Lucky Block (LBLOCK)
LBLOCK is down by 11% in the past 24 hours, sinking to $0.00141671. This represents a 16% fall in the past week and a 55% drop in the last 30 days.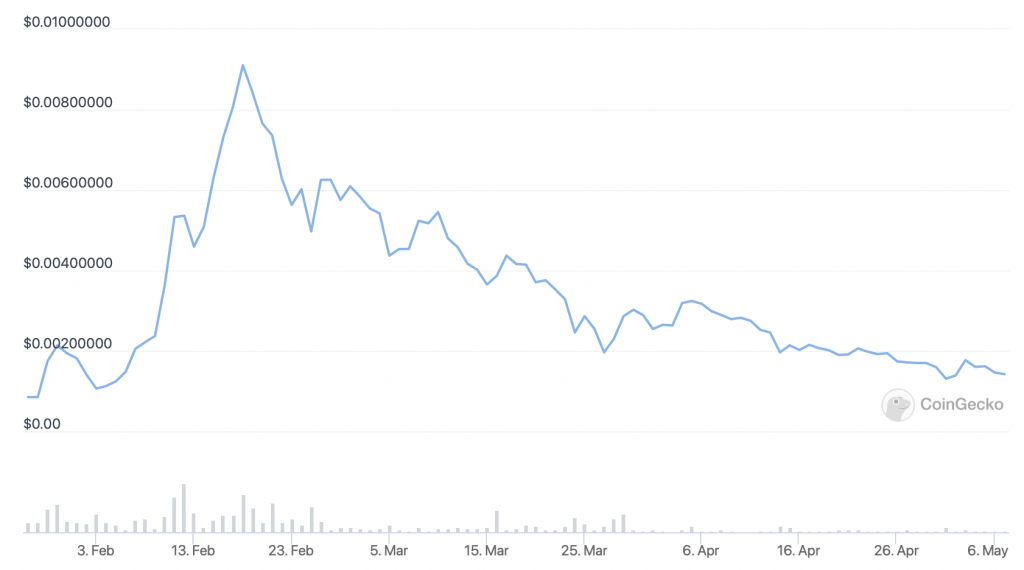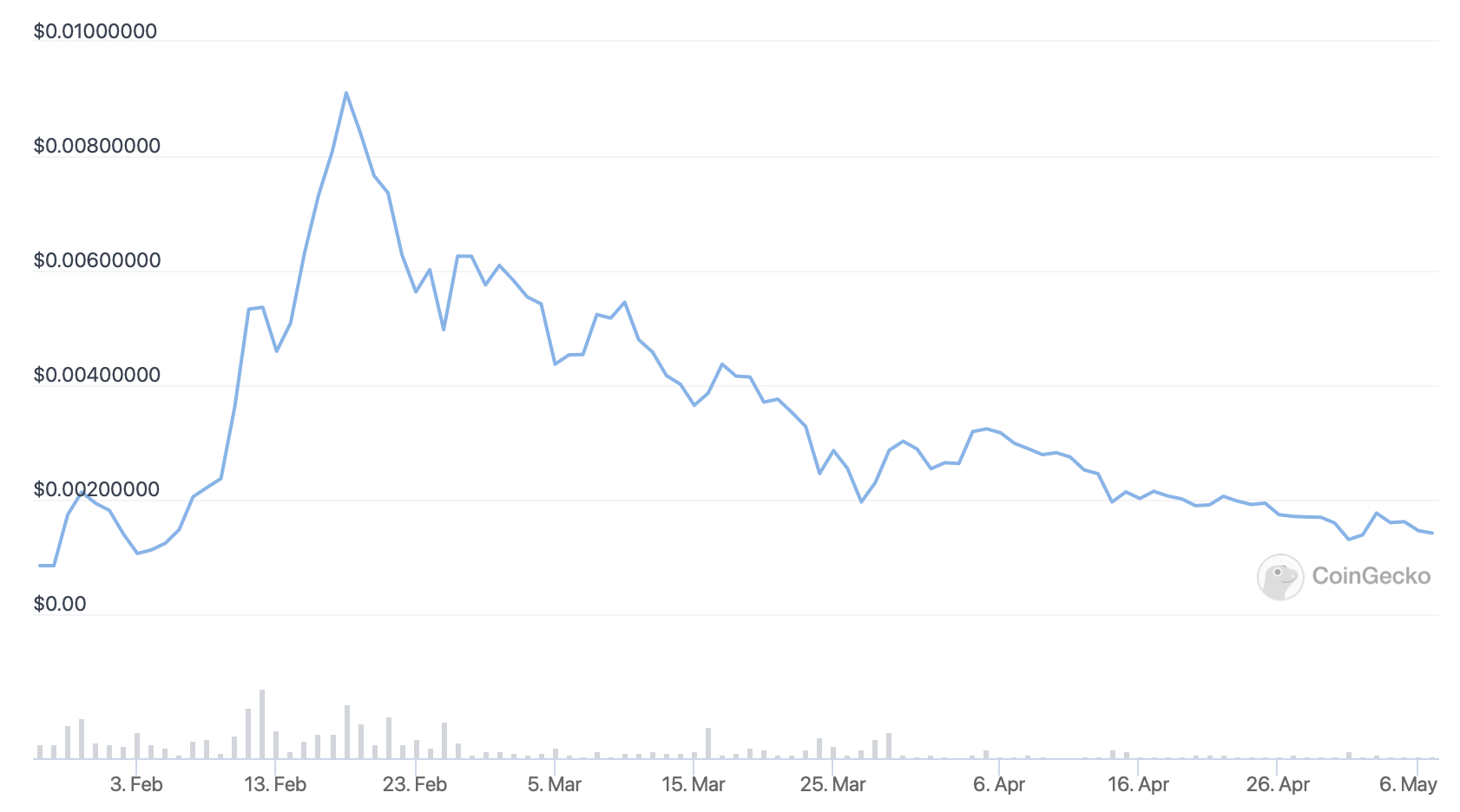 LBLOCK is down by a hefty 85% since reaching its all-time high of $0.00974554 on February 17. That said, this arguably gives it plenty of room to recover, not least when the Lucky Block platform is still to hold its first ever draw.
A crypto games platform running on Binance Smart Chain, Lucky Block will hold daily draws once it launches later this month. Users can buy tickets with LBLOCK, giving them the chance to win 70% of each draw's jackpot fund. However, all holders of LBLOCK, regardless of entry, will receive an equal share of 10% of each draw.
This reward structure and the general transparency of the Lucky Block helped to generate plenty of early excitement in LBLOCK. It now counts around 52,000 holders, having become available in late January. It has also boasted of becoming the fastest coin to reach a market cap of $1 billion.
To all new followers that came here after last night – Lucky Block is the #1 crypto games platform and the fastest-ever crypto to hit $1 billion market cap! 🚀

You can buy our token on pancake swap and LBank, for more information and instructions go to https://t.co/TFNyU8nVVl 🤞

— Lucky Block 🤞 (@luckyblockcoin) April 24, 2022
Such growth indicates that, once Lucky Block does hold its first draw, LBLOCK could rally strongly. This is why it's one of our 5 best cryptocurrency to buy for the weekend rally.
2. Bitcoin (BTC)
BTC has fallen by 8% in the past 24 hours, dropping to $36,292. It has risen very slightly in the past hour, but is down by 20% in the past month.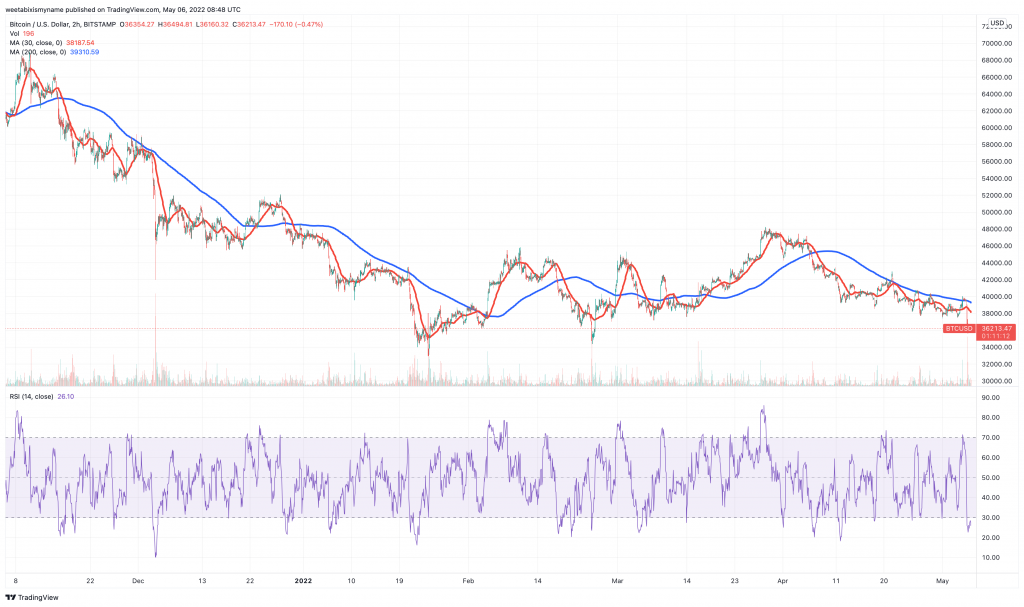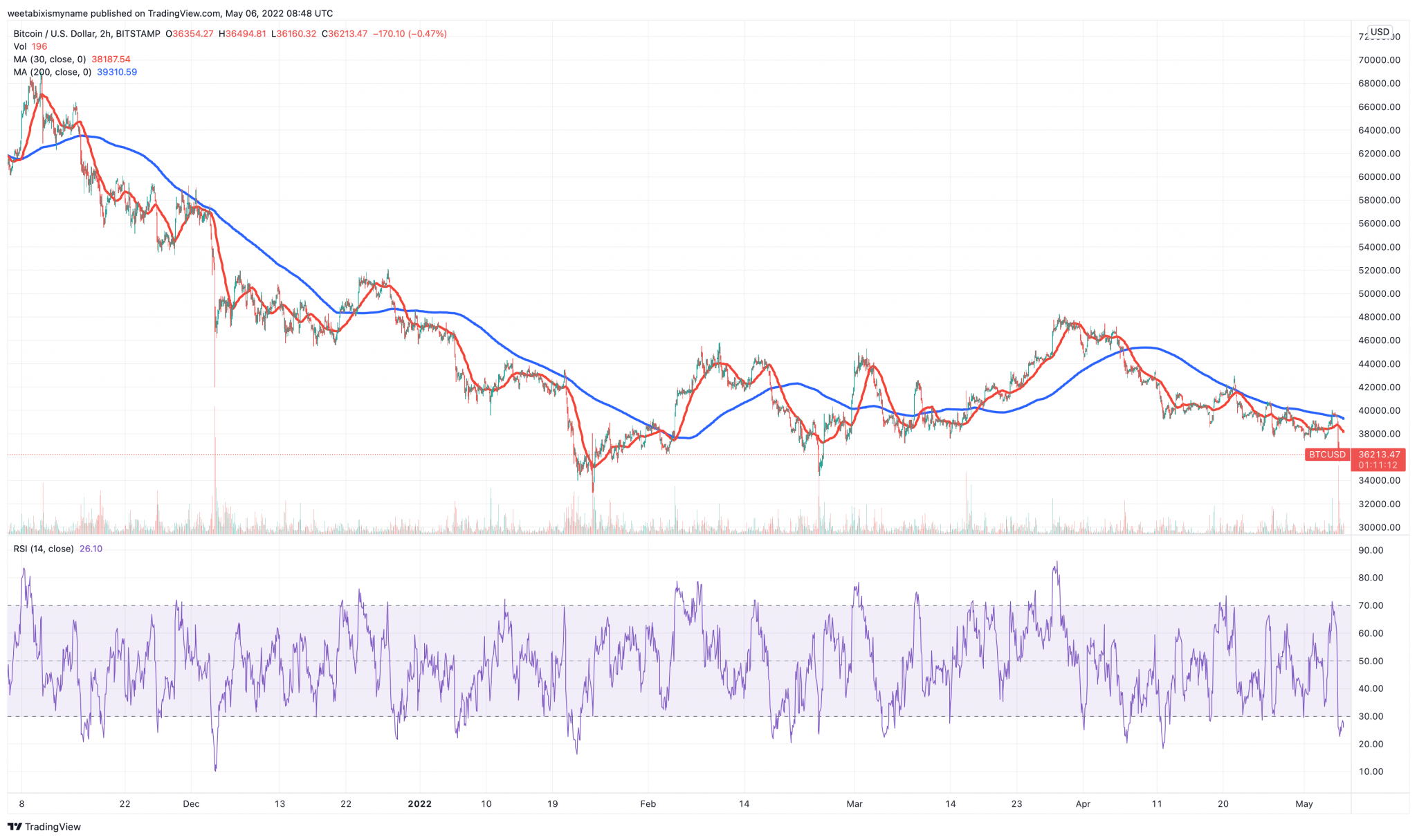 As far as technical indicators go, BTC can't help but rise to some degree in the next few days. Its relative strength index (in purple) has dipped below 30, indicating that it's oversold. And as the chart shows, pretty much all RSI dips below 30 precede a rise. The question is, how long will the rise last?
There's always good reason to believe that BTC has a better chance of rising than the vast majority of other cryptocurrencies. At the very least, it tends to lead market rises and falls, meaning that no trader can really expect a market-wide recovery without bitcoin recovering as well.
More broadly, BTC continues to see growing evidence of uptake. For instance, major US bank Goldman Sachs provided its first ever bitcoin-backed loan last week, with Coinbase being the borrower in question. Not only that, but the Central African Republic became the second country to make BTC legal tender recently.
There's also the fact that institutions own around $56 billion in BTC, more than any other cryptocurrency. In other words, BTC is probably the safest possible bet in a risky market right now.
3. Zilliqa (ZIL)
If you were to pick cryptocurrency investments solely by how hard a coin has fallen in the past few days, ZIL would be near the top of your list. At $0.073576, it's down by 18% in the past 24 hours, and by 41% in the past month.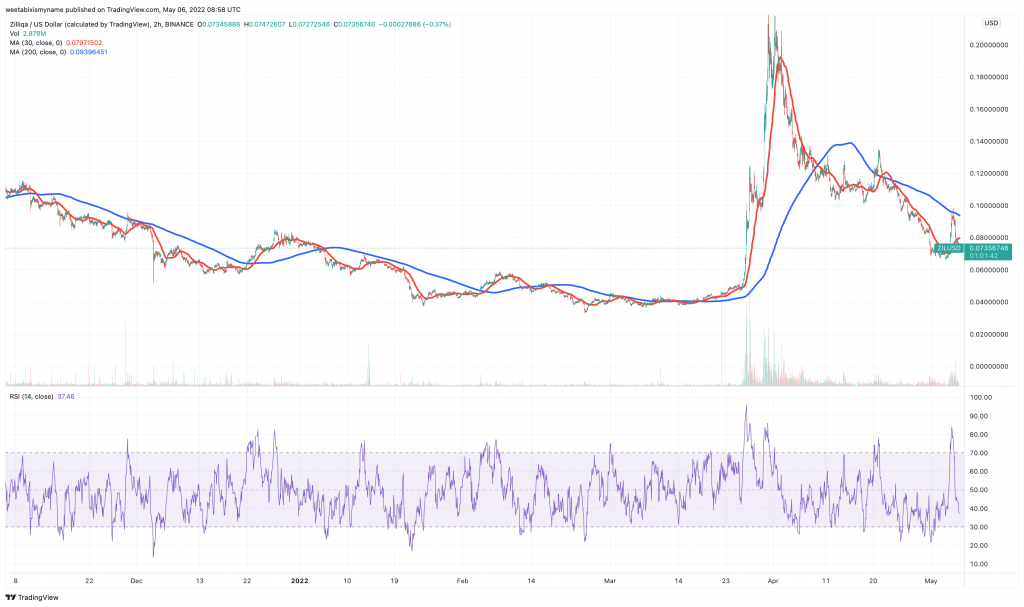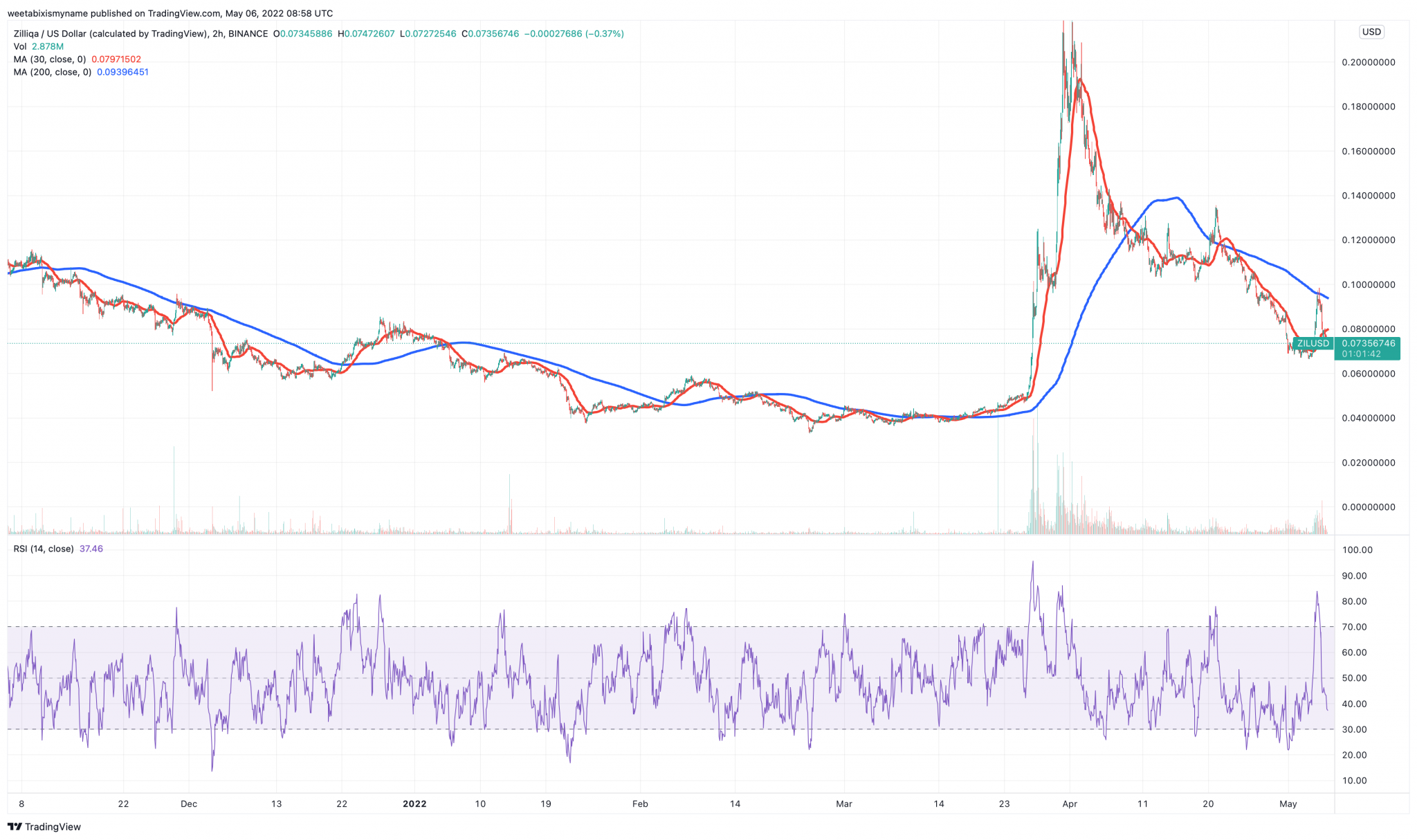 ZIL's indicators suggest that now is the time to buy into the altcoin. Its 30-day moving average (in red) has dropped well below its 200-day average (in blue), indicating that it may begin moving up again soon. The same goes for its RSI, which is nearing 30.

Prior to the recent market downturn (caused largely by negative sentiment and macroeconomic conditions), ZIL had been doing relatively well. It's the native token of Zilliqa, a layer-one blockchain platform that's already capable of sharding, thereby improving its scalability compared to chains such as Ethereum.
Its native token, ZIL, has rallied in recent weeks mostly because of the imminent launch of Zilliqa's metaverse, Metapolis. This is a metaverse-as-a-service platform, meaning that other companies and projects can use it to build their own virtual worlds and experiences.
We're making it official. #Metapolis, Zilliqa's highly immersive, customisable extended reality (#XR) #metaverse platform – Coming soon in 2022!

Here's what's in store for Metapolis. https://t.co/gCTmHeZ2OJ pic.twitter.com/dP7twwBYu4

— Zilliqa (@zilliqa) December 20, 2021
Other than that, Zilliqa has spent the past few weeks announcing various launches and partnerships. This includes the launch of new games based on its blockchain, as well as its joining of the Blockchain Game Alliance in mid-April.
📢ANNOUNCEMENT📢

We've officially joined the Blockchain Game Alliance (BGA)! Zilliqa now has a hand in defining the future for blockchain-based gaming — with the support of our passionate #Zilliqans, esports partners, and growing team of gaming veterans!https://t.co/ahM5xABUeH pic.twitter.com/A8OzfWXqua

— Zilliqa (@zilliqa) April 19, 2022
In light of this growth, and in light of the fact that ZIL was rising high prior to yesterday's crash, we've added it to our list of the 5 best cryptocurrency to buy for the weekend rally.
4. Tron (TRX)
At $0.080048, TRX is down by 6% in the past 24 hours, but up by 1.4% in the past hour. It also happens to be up by 25% in the past week and by 15% in the last 30 days.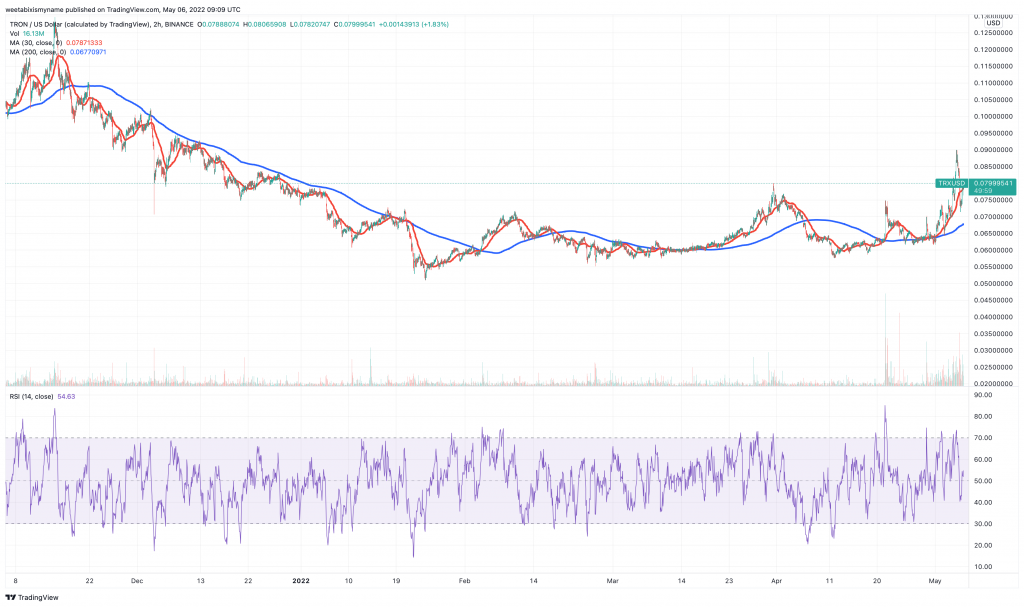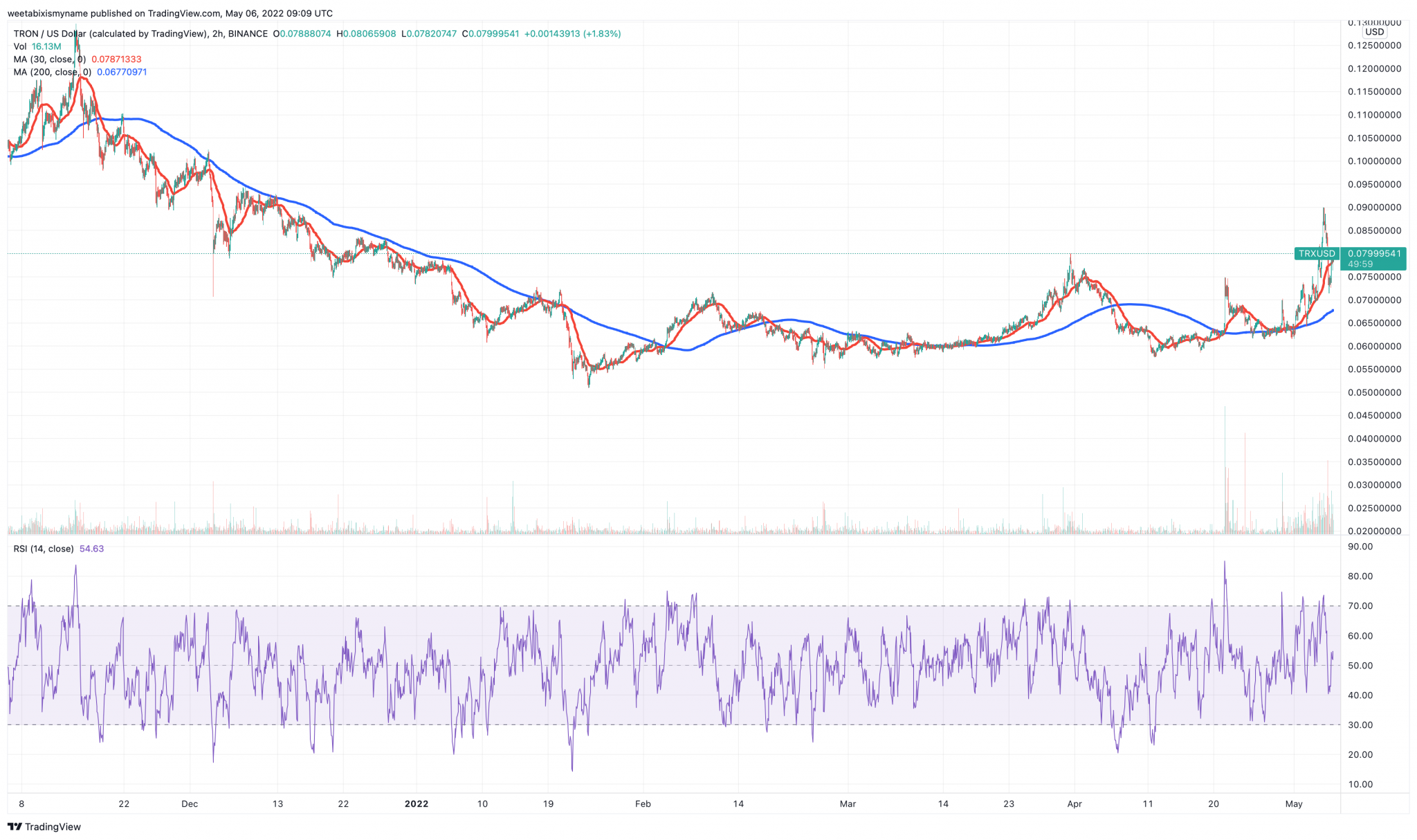 TRX is one of the few coins whose gains in the past few days haven't been badly affected today. Its 30-day average is still rising above its 200-day, suggesting that a rally is still ongoing. Its RSI is also above 50, indicating ongoing momentum.
Prior to yesterday, TRX had been rallying largely because Tron celebrated creating 90 million accounts a couple of days. The layer-one blockchain platform also boasts having completed 3.1 billion transactions, with its Twitter account declaring the "world's fastest-growing public chain."
🎉The total accounts on the #TRON network exceeded 90 million!

🚀Boasting over 90 million accounts and 3.1 billion transactions, #TRON is the world's fastest-growing public chain with continuous daily new accounts every day.

🥰Thanks for all the supports from #TRONICS pic.twitter.com/Ys3dijr4hX

— TRON DAO (@trondao) May 2, 2022
Tron is indeed one of the biggest chains in the sector, with a total value locked in of $4.48 billion. It's also rallying from the recent launch of its very own algorithmic stablecoin, USDD. This is bullish for TRX not only because it provides extra liquidity, but because the creation of new USDD requires the burning of TRX.
🔥#USDD total supply has exceeded $126 million with 1.6 billion #TRX burned! @trondaoreserve

Check here 🔗 https://t.co/P1G7VWlaVz https://t.co/z0ZTUz8BIv pic.twitter.com/RFi8jP2X0s

— TRON DAO (@trondao) May 6, 2022
5. The Sandbox (SAND)
SAND is down by 12% in the past 24 hours, at $2.06. It's also down by 17% in the past week and by 38% in the past month.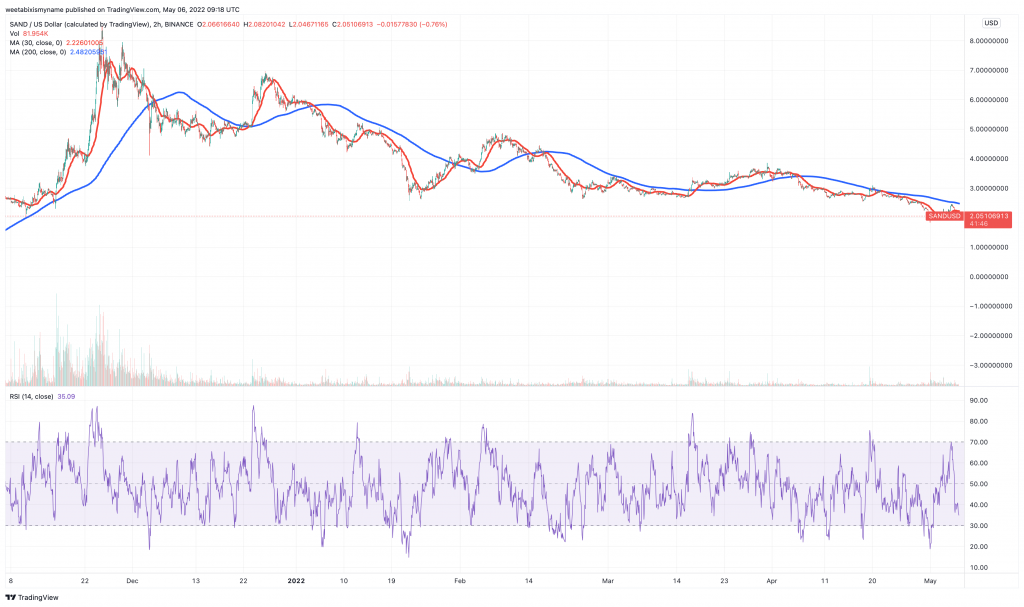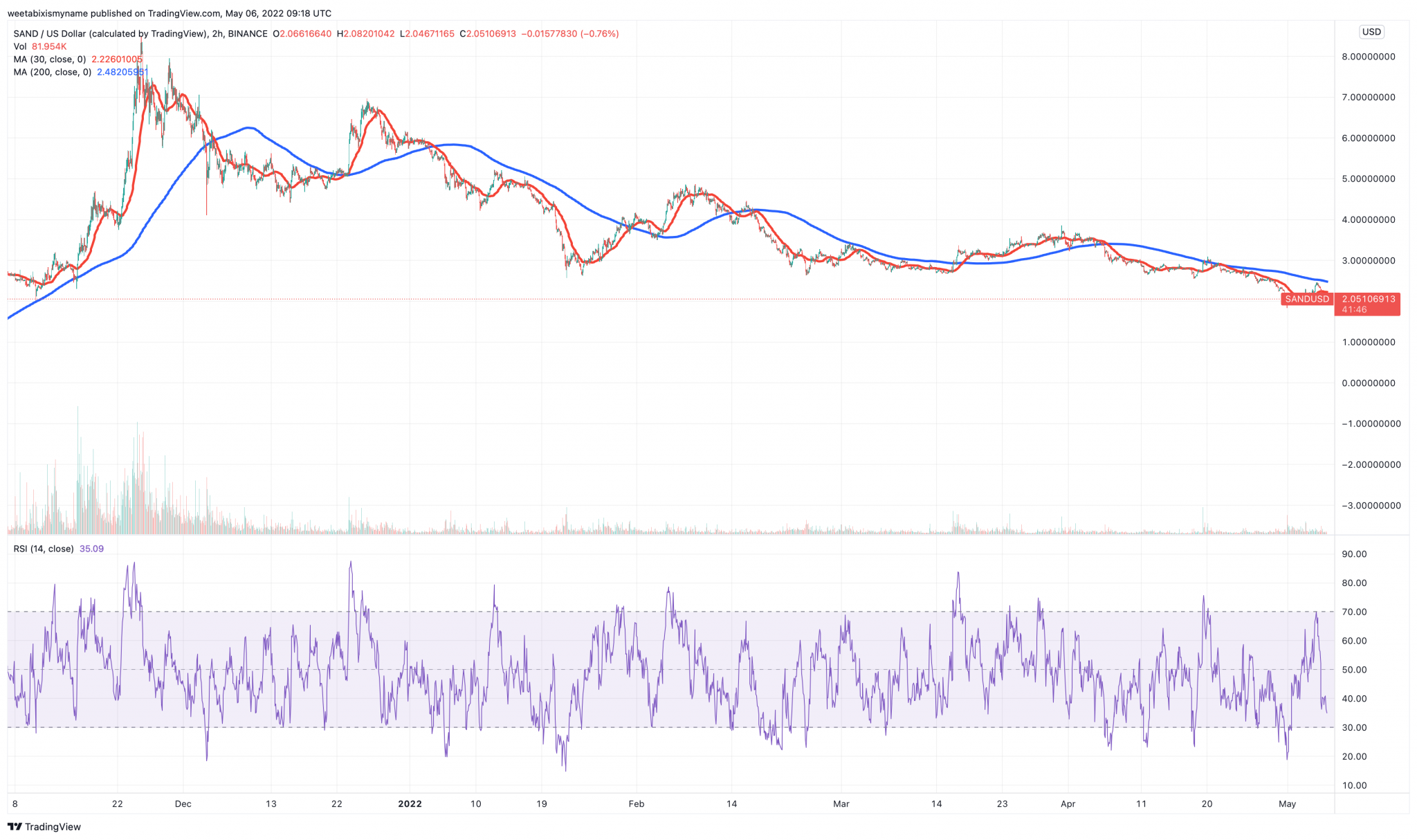 SAND's RSI is nearing on 30. It's reaching oversold territory, which would imply a rebound at some point. And compared to other blockchain-based gaming and metaverse platforms, the Sandbox is arguably the best placed to see a resurgence.
It continues to announce new partnerships and launches. This includes a teaming up with female-oriented NFT collection World of Women, and not to mention Atari, Gucci, Snoop Dogg and banking giant HSBC.
World of Women x @TheSandboxGame

What better day than #InternationalWomensDay, to announce the launch of

🌷 WoW Foundation 🌷

kicking off with a 25 million dollar grant from The Sandbox to lead and support women into NFTs & the metaverse! 🤩👇https://t.co/cMjVKs7Be7 pic.twitter.com/NDYEAhvLzS

— World of Women (@worldofwomennft) March 8, 2022
Capital at risk
Read more: