The NFT market grew exponentially last year, with more investors purchasing digital art. This trend may continue, with a plethora of exciting NFTs increasing in value. Let's explore the best NFTs to collect or trade now and where to buy these digital assets.
1. Lucky Block (LBLOCK)
Our top recommendation for the best NFTs to collect or trade now is Lucky Block's Platinum Rollers Club NFT collection.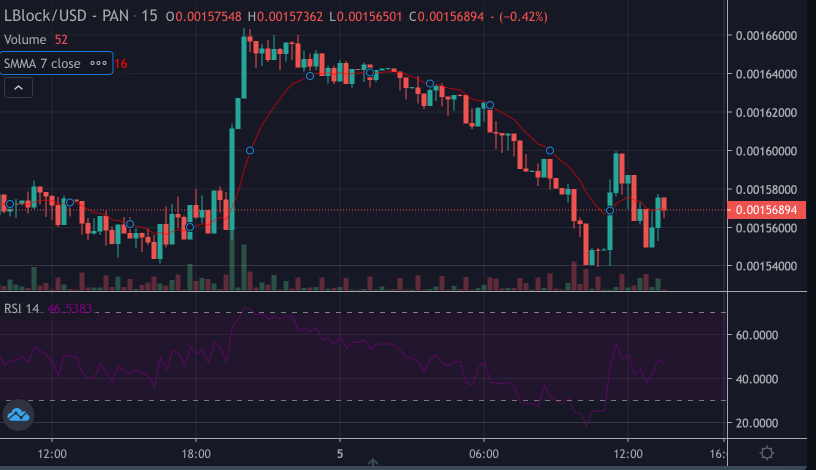 At press time, LBLOCK trades at $0.001575, a drop of 1.59% in the last 24 hours and 9.25% in the past 7 days. The digital asset is 84.45% below the all-time high of $0.01.
Lucky Block, hosted on the Binance Smart Chain (BSC), is a cutting-edge game-centric crypto platform. The platform aspires to promote gaming transparency and fairness by creating a gaming system that gives all participants a better chance of winning, while contributing to the community and providing token holders with a smart investment strategy.
Lucky Block reduces the period between drawings and allows for numerous draws per day, giving players more chances to win while lowering their gaming costs. Also, using distributed ledger technology, regardless of the size of the jackpot award, provides for speedier payouts and complete documentation and verification.
Token holders can participate in daily prize draws through Lucky Block's app and its NFT platform. Holders of LBLOCK, Lucky Block's native token, can use their tokens to purchase $5 entry tickets, with one winner collecting the jackpot every day.
Another intriguing feature is that Lucky Block will donate 10% of each daily jackpot to charity, with users voting on which charity to support. The cause that has the most votes will receive 70% of the allocated funds, while Lucky Block will distribute the remaining 30% among the other foundations, ensuring that each enterprise receives money.
The giveaway draws for the Lucky Block Platinum Rollers Club NFT collection will take place before all 10,000 NFTs in the collection are sold. The first giveaway will include a $1 million LBLOCK prize.
The statement further reveals that there would be a Lambo prize, if the NFTs are sold out. Another benefit of the Platinum Rollers NFTs is that they can be used indefinitely as an entry ticket for Jackpot-style giveaways.
2. Decentraland (MANA)
Decentraland comes in second on our list of the best NFTs to collect or trade now.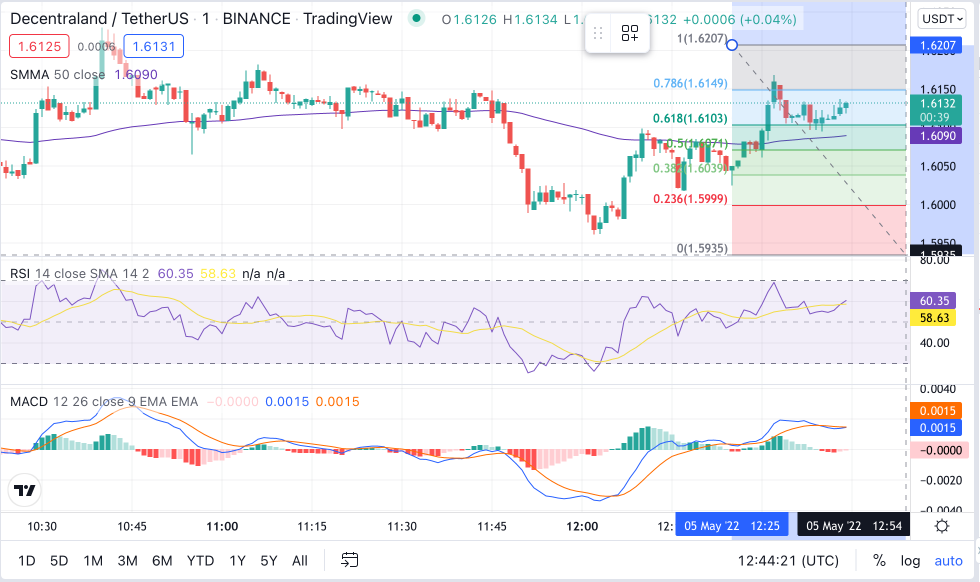 Currently, MANA trades at $1.61. The digital asset has seen an uptrend of 4.34% in the last 24 hours and a drop of 12.09% in the past 7 days. MANA has slumped by 72.61% below its all-time high of $5.90.
Decentraland is a great option if you seek the best NFTs in the metaverse ecosystem to invest in. The blockchain-based open-world play-to-earn crypto game allows users to create in-game avatars and purchase land plots. The exciting part is that these pieces of land are structured as NFTs, which means their owners can exchange and sell them to other users.
Decentraland is hosted on the Ethereum blockchain, and its native currency is MANA. As the metaverse concept has gained popularity, Decentraland's in-game items have also become incredibly popular, with 'land parcels' being particularly sought after. On the Decentraland Marketplace or OpenSea, users can acquire these land plots.
Investors can acquire MANA on a major exchange like eToro and use the currency to buy in-game products, including art, apparel, weaponry, and parcels of land. These NFTs may improve in value as Decentraland's universe develops and gains popularity, making them some of the best NFTs to collect or trade now.
Millennium Hotels and Resorts, held by Singaporean billionaire Kwek Leng Beng, and Regal Hotels Group, held by the Lo family, are taking their first steps into the metaverse by purchasing virtual properties on Decentraland.
The M Social Decentraland hotel, according to Millennium Hotels, aims to become "a place for anyone to gather and discover the virtual reality cosmos" in the metaverse platform.
3. The Sandbox (SAND)
Next on our list of the best NFTs to collect or trade now is The Sandbox, a 3D Metaverse game. This decentralised NFT game metaverse allows non-techies design, sell, enjoy, and profit from virtual reality NFTs.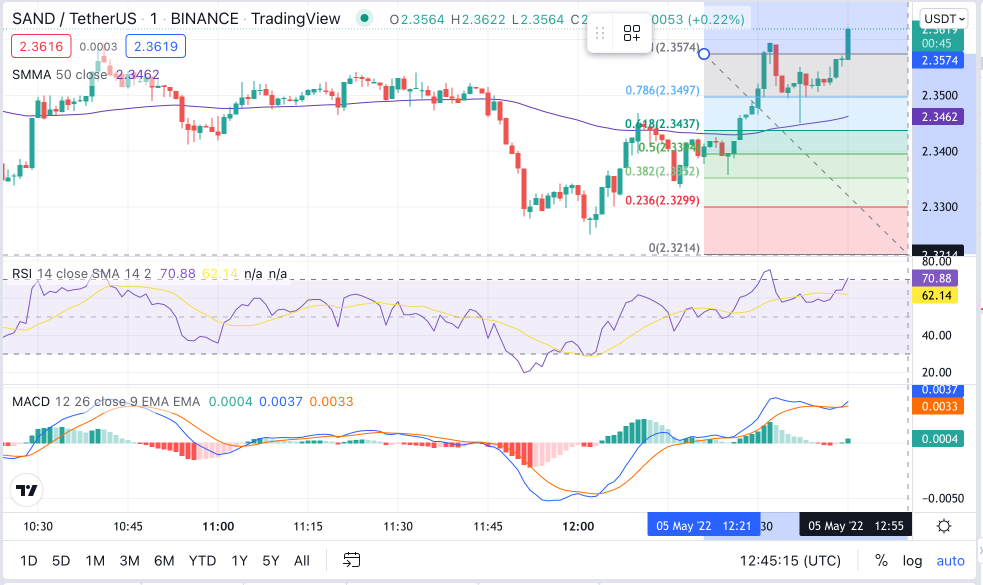 SAND's price at press time is $2.36, up 3.33% in the last 24 hours. The digital asset saw a downtrend of 7.38% in the last 7 days and is currently 72.16% below the all-time high of $8.44.
The Sandbox is a one-of-a-kind platform that combines blockchain and gaming. User-generated content is the emphasis of the Sandbox. Users can share their views on the project's progress using SAND, Sandbox's token.
The Sandbox, based on Ethereum, is a decentralised virtual environment in which users can monetise assets and gaming experiences. Furthermore, owing to the exchange-traded products (ETP), investors will be able to profit from The Sandbox's growth safely and securely.
Dubai's Virtual Assets Regulatory Authority (VARA) has announced intentions to open a metaverse headquarters in The Sandbox virtual environment.

VARA has not been forthcoming about the role of its "MetaHQ". However, they proclaimed in a statement that the headquarters would serve as its primary channel for engaging Virtual Asset Service Providers worldwide.
Also, VARA intends to openly share knowledge and experiences with consumers and peer regulators to raise awareness, enable safe adoption, and drive global interoperability.
4. Solana (SOL)
Solana is next on our list of best NFTs to collect or trade now. It's a decentralised app platform that allows users to create smart contracts, non-fungible tokens (NFTs), and decentralised apps (dApps).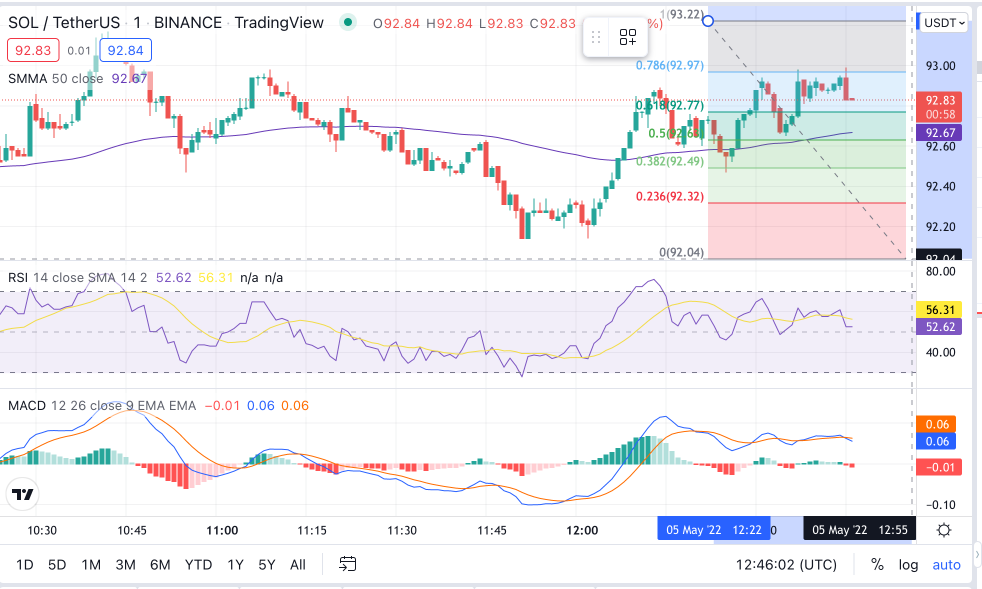 At press time, SOL's price is $92.84, up 5.17% in the past 24 hours. The digital asset also saw a downtrend of 7.23% in the past 7 days. Also, SOL is 64.39% below the all-time high of $260.06.
Solana is an open source project that uses a permissionless blockchain technology to create decentralised financial (DeFi) solutions. The project was created to increase low transaction costs, scalability, and processing speed.
Solana attempts to make developing decentralised apps easier (DApps). The blockchain plans to increase scalability by combining a proof-of-history (PoH) consensus with the its underlying proof-of-stake (PoS) consensus.
Solanas' blockchain for its lightning-fast processing speeds, and its hybrid protocol enables substantially faster transaction and smart contract execution validation. In addition, The platform has gained a lot of institutional attention due to its lightning-fast processing times.
NFTs developed on the Solana blockchain network can now be traded on OpenSea, the world's largest NFT market by volume. OpenSea is based on Ethereum and currently controls a significant chunk of the NFT market. The NFT market may now accept collectibles from Solana and its sidechain scaling options due to the integration of Solana.
5. Theta Network (THETA)
Rounding off our list of best NFTs to collect or trade now is Theta Network.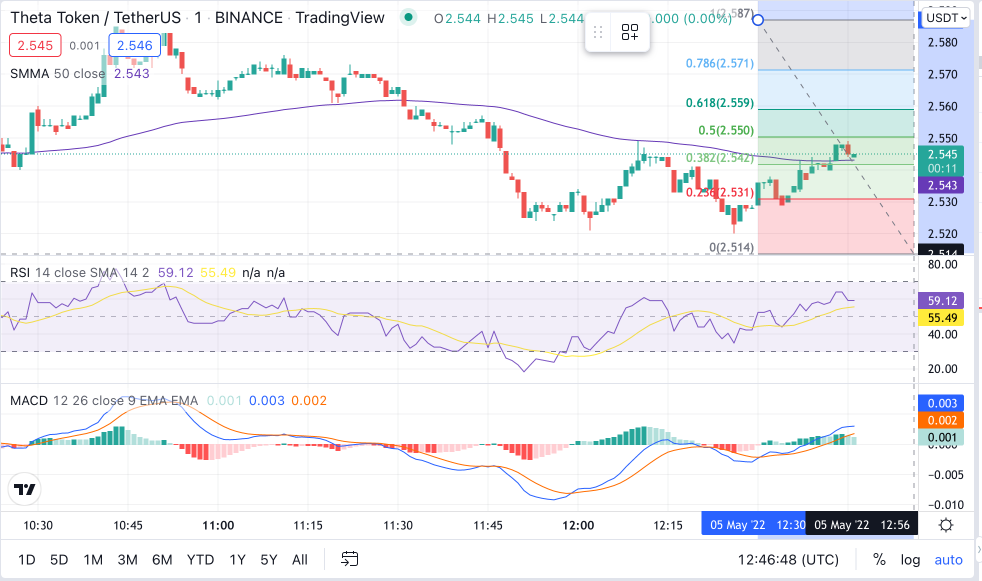 At press time, THETA is trading at $2.56. The digital asset is up 6.58% in the last 24 hours. However, THETA has slumped by 9.50% in the past 7 days and is 83.92% below the all-time high of $15.90.
Theta, a blockchain-based network, was built specifically for video streaming. Users trade bandwidth and computational resources on the Theta mainnet, a peer-to-peer (P2P) network.
The network's main business model is decentralising video streaming, data transfer, and edge computing. This is to allow video streaming become more efficient, cost-effective, and equitable.
Theta's attraction is threefold: users benefit from higher-quality streaming services, content creators make more money, and intermediaries – video platforms — save money on infrastructure while increasing advertising and subscription revenue.
Users receive TFUEL tokens for watching network content and sharing network resources. In addition, they can use TFUEL to pay for things like setting up caching nodes and dealing with and developing smart contracts. Users can gain TFUEL by staking THETA, offering caching power to other users, or interacting with the Theta.tv platform.
As with many proof-of-stake (PoS)-based blockchain ecosystems, the platform is open source, and token holders enjoy governance powers.
Theta is revolutionising video streaming, and they hope to cut network content delivery expenses. As a result, they've now released Metachain, a new Mainnet 4.0 upgrade.
The Theta Metachain will power web 3.0 enterprises. Big firms like Netflix currently grab 80% created through Web 2.0 and leave creators with 10%, while the users receive 10%.
As a result, Theta wants to change the scenario of new enterprises only getting 20% of the value they create. Additionally, they can scale up to 10 times. This boosts the success of new Web 3.0 businesses by 200%.
Where to Buy NFTs
Our recommended exchange for where to buy NFTs is eToro. Crypto.com is a trading website that allows users to trade digital assets, invest in them, stake them, create wallets, and buy non-fungible tokens (NFT).
eToro made a name for itself with its social investing platform, a ground-breaking technology that allows users to copy other investors' moves. One of the fascinating elements of the eToro platform is the CopyTrader function. With a simple click, eToro users may imitate the trading of their favourite high-performance traders.
For payment methods, if you use a debit card or connect a bank account, the minimum trading amount is $10, and the minimum deposit amount is $10. eToro supports around 65 cryptocurrencies. Also, users can link their bank accounts for quick transfers or deposit money via wire transfer.
Read more: